The Single Source for Service, Parts, & Warranty
Services, Parts, & Warranty
When you choose Clarke Power Services, you choose a one-stop-shop for all truck repairs and parts. Our highly trained technicians provide best-in-class repairs and customer service for all makes and models Class 4-8. Plus, with 21 locations and 150+ mobile trucks across 9 states, we're conveniently located near you.

In addition to high quality service, we offer more than 200,000 parts with competitive pricing and direct shipping for any order. If you need warranty service work, we also provide efficient warranty support to help you quickly return to normal operations. Read on to learn more about our service, parts, and warranty offerings.
Service
Clarke Power Services has been servicing commercial vehicles for over 55 years. With over 100 Customer Support Representatives, 20 Customer Support Managers, and 15 Account Managers, we are here to help you get the quality service you need. Learn more about our services below, and contact one of our service experts today to schedule your next service appointment.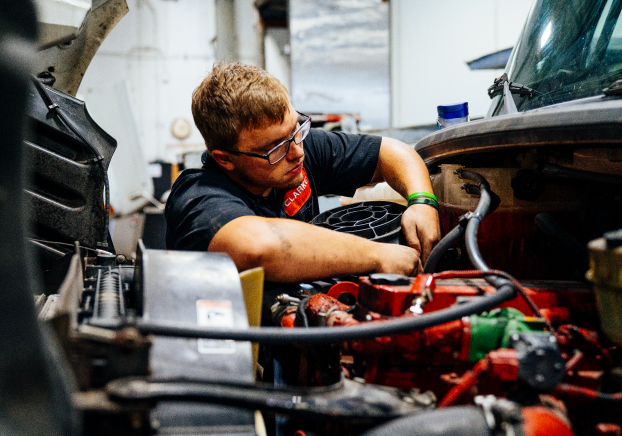 Preventative Maintenance
When it comes to your equipment, one of the most important things to stay on top of is the manufacturer suggested preventative maintenance (PM) cycles.

Keeping up with oil changes, filters and other services based on miles or hours can be the difference between a trouble-free unit and one that continues to have problems.

At Clarke Power Services, we have multiple ways we can perform PM services, whether it's for a single truck or your entire fleet of trucks and trailers.

Contact us today to set up your PM program.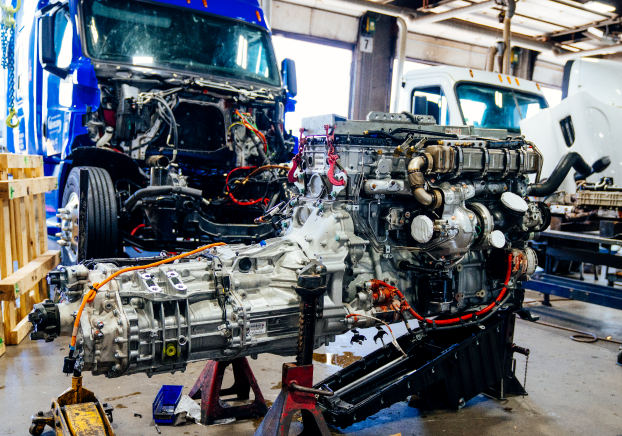 Heavy Duty Repairs
For over 50 years, we have successfully tackled some of the hardest engine and transmission repairs out there. Our technicians are constantly trained to remain on top of current technology, with most of our locations offering DDC/MBE certified work, and select locations offering Allison certified work.

Additionally, we have a complete selection of OEM Specialty Tooling and Software with state of the art testing equipment.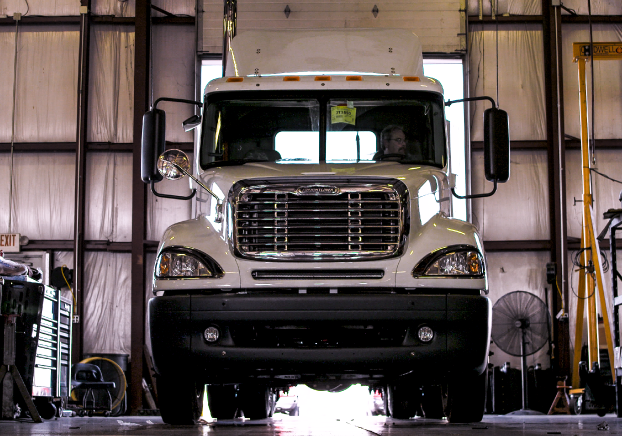 Bumper to Bumper
We offer bumper to bumper service for all makes and models Class 4-8, as well as vocational equipment such as dump trucks, utility trucks, and mixers. Here are some of the areas we can help you with:
Reefers & Trailers
Brake & Wheel End
Chassis & Suspension
Electrical & Lights
Fuel Systems
Drivetrain
Steering & Axle
Exhaust & Emissions
Accessories & Chemicals
Climate Control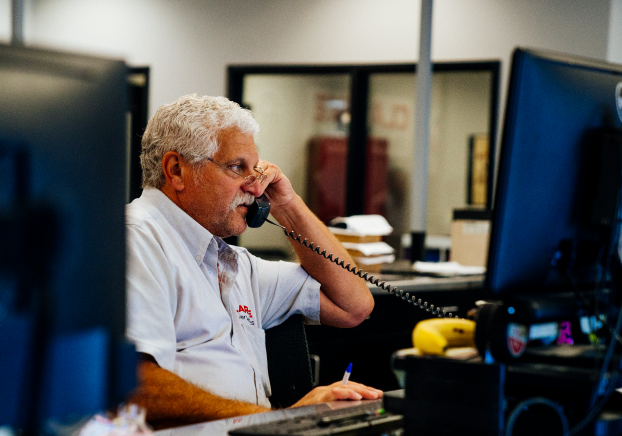 Road-side / Breakdown
On-road breakdowns and accidents need quick, expert response. Our experts will take care of everything from quick fixes, to arranging towing, to accident repair management.

In addition to our 23 shop locations, we have over 150 Mobile Service Units that can come to you and provide the service you need. If you need roadside service or breakdown service, contact us, and we'll help you get back on the road.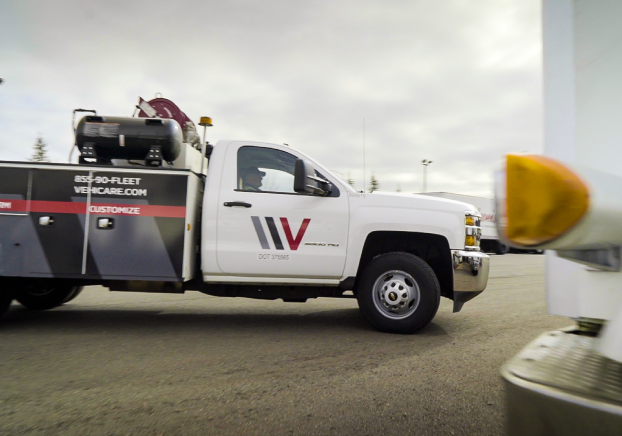 Mobile Service
We have over 150 fully equipped Mobile Service Units throughout 9 states, which means service and expertise comes to you.

Whether you need a one-time breakdown service or want to set up a preventative maintenance (PM) program, our Customer Service Representatives and skilled Technicians are ready with full equipped service trucks to help you keep your fleet moving – regardless of where it is.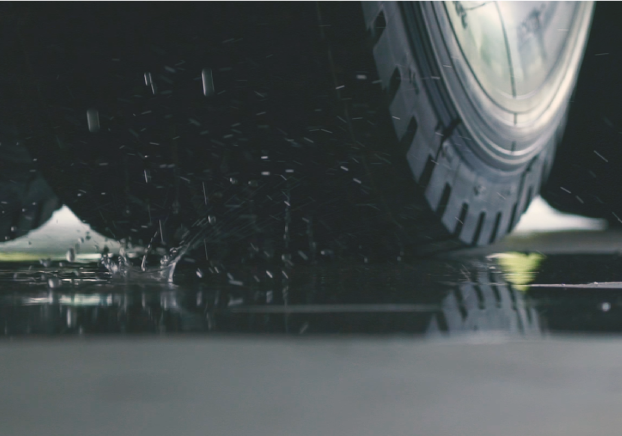 Trailer
Our highly trained technicians will help you keep your trailers in excellent working condition, including specialty trailers such as autohaulers, tanks, and reefers. We service and maintain trailers in areas such as the following:
Doors
Lights
Tires
Panels
Brakes
Hoses
Hydraulics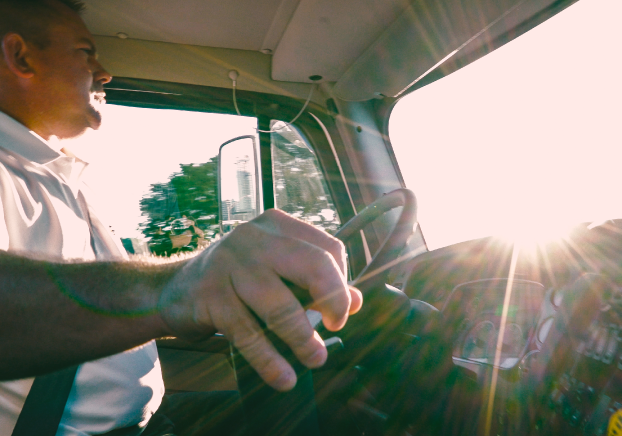 Green / Alternative Power
In today's changing environment, Clarke Power Services is at the forefront of providing green and alternative power options for our customers, including:
Natural gas
Rechargeable battery packs
Hybrid technology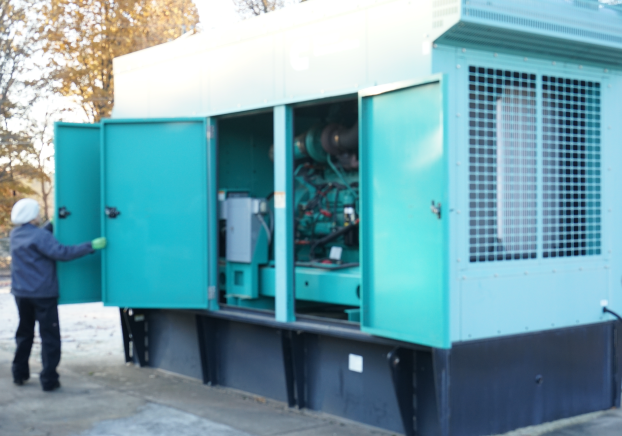 Off-Highway
We offer a variety of off-highway services, from Perkins engine sales and service, to power generator service, to material handling service. Read on to learn more:
Approved Perkins Distributor: As an approved Perkins Distributor in 24 states, we can provide the Perkins engine that's right for your equipment and adapt it to your specific requirements. Our team of experts also offers superior service, warranty work, and parts that match the standard of excellence you expect with a Perkins engine. Learn more at www.clarkepoweredsolutions.com.
Generators, Industrial Engines, and Fire Pump Engines: As a full-service provider, we keep all makes and models of generators, industrial engines, and fire pump engines running efficiently. We offer PM mobile service, emergency service, part sourcing, load banking, unit replacement, and fuel tank cleaning.
Material Handling: We'll help you keep your industrial equipment in prime shape to maximize productivity and up-time. Our expert team of technicians will perform regularly scheduled preventative maintenance on forklifts, pallet jacks, walkie riders, and other fleet equipment.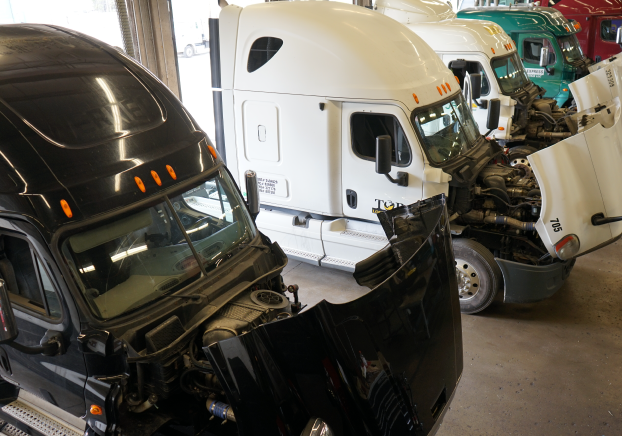 Fleet Management
Are you managing your fleet with precision? We can help you increase your uptime and control your costs through a proactive fleet management and maintenance program. With over 150 Mobile Serve Units, we can come to you to complete your regularly scheduled preventative maintenance service. We also offer data reporting and analysis to help you optimize your fleet maintenance program. Learn more at www.vehicare.com.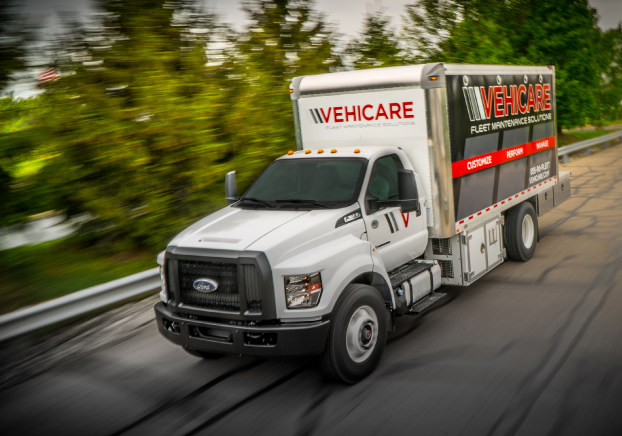 Dedicated Mobile Service Unit
If you operate multiple vehicles at multiple sites in a broader geographical area, we can provide a Dedicated Mobile Service Unit that is focused on just your fleet. We'll help you set up, schedule, validate, and complete PMs and unscheduled repairs in areas where you do not have maintenance facilities.

Additionally, we'll capture completed PM forms, DOT/FHWA inspection compliance documents, and invoicing paperwork.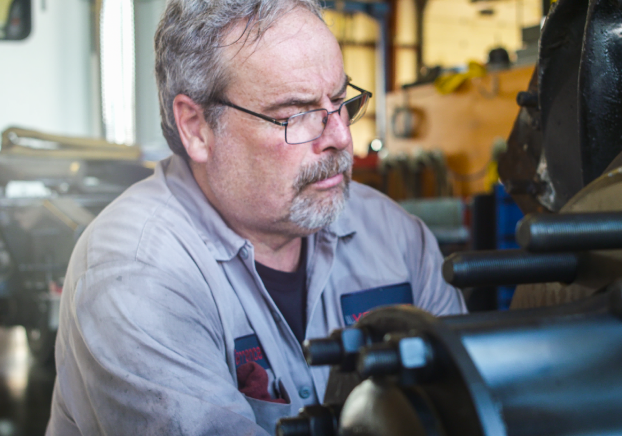 Inspections
Staying DOT compliant isn't just important; it's the law. Clarke Power Services will help you ensure your equipment is inspected at least once annually, or more, depending on your company's inspection policy.

Plus, if your equipment is in the shop for another service, we can do a complimentary 55-point visual inspection and provide you a report on repairs your equipment needs now or in the near future.

Contact us today to schedule your DOT inspection or complimentary visual inspection.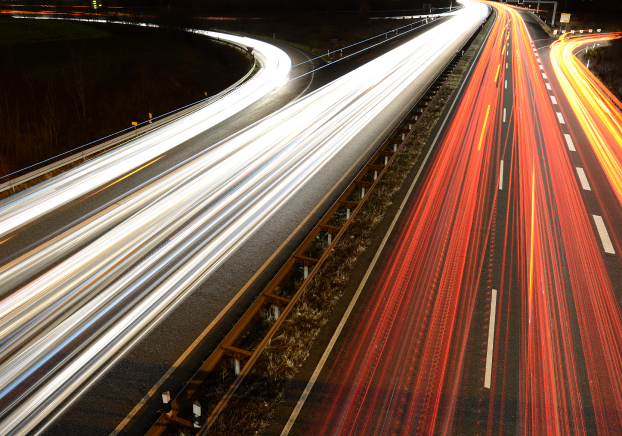 Telematics
Trucks produce rich data that can be analyzed for actionable insights. As an Authorized Geotab Reseller, we can provide you the leading telematics solutions in trucking.

Geotab can be used to help with Safe Features, Safe Incidents, Idle Time, Route Optimization, EDVIR Logs, Fault Codes and Scheduling Service.

Contact us today so our Geotab product experts can help set your fleet up to be running the best telematics system on the market.
Parts
Clarke Power Services, Inc. offers over 200,000 parts with competitive pricing and direct shipping options for any size order. We offer many different brands – such as Detroit Diesel, Allison Transmission, Mercedes-Benz, Perkins, and MTU – for your convenience and needs. We have purchasing power and on-hand inventory to make sure we can provide a wide variety of parts quickly and while delivering excellent value.
Below are just some of the brands we partner with. We offer parts from many more vendors so that no matter what equipment you are running, we can supply you with the part you need.
Detroit Diesel
For more than 70 years, Detroit Diesel has designed and built heavy-duty engines that fuel commerce and transportation across North America and the world. Detroit Diesel engines drive a wide range of heavy-duty vehicles and feature innovative technologies.
Clarke Power Services is proud to provide service, parts and warranty work for all Detroit Diesel engines.
Allison Transmission
Since 1970, Clarke Power Services has serviced Allison Transmission products. Allison is among the world's largest designers, developers, manufacturers and distributors of medium- and heavy-duty fully automatic transmissions and hybrid propulsion systems. Allison products are suited for a wide variety of vehicles and vocational applications.
Perkins
For more than 85 years, Perkins has been one of the world's leading providers of diesel and gas engines. Perkins small and large high-performance engines have excellent fuel economy and low cost of ownership.
Our Clarke division — Clarke Powered Solutions — became an appointed Perkins engines distributor in 2018. Our expert team offers coverage throughout 24 states.
Daimler Trucks
Daimler Trucks encompasses a variety of brands in the North American market: Mercedes-Benz trucks, Freightliner trucks, Western Star and Thomas Built buses. Daimler is known for innovations, including efficient drives, autonomous driving, and active and passive safety systems. With our purchasing power and on-hand Daimler parts inventory, Clarke Power Services offers competitive pricing and shipping options for all your Daimler engine needs.
Jarraff Industries
Jarraff Industries provides specialized right-of-way maintenance, land clearing and tree care equipment for US and international usage. The Jarraff product line offers features that maximize production and enhance operator safety. Clarke Power Services became a Jarraff certified service provider in 2020.
WheelTime
Clarke Power Services is proud to have launched the WheelTime network in 2001. Comprised of 16 expert parts and service providers, WheelTime covers all 50 states and Canada with nearly 200 locations. All our providers live up to the WheelTime® Promise, which ensures adherence to exclusive truck repair and service standards.
Geotab
Clarke Power Services is a reseller of Geotab, a global leader in Internet of Things (IoT) and connected transportation. It provides more than 40,000 customers worldwide with an open-platform telematics solution that helps businesses better manage their fleets.
This telematics solution provides actionable insight into a fleet's productivity, driver behavior, fuel efficiency and more.
MTU
MTU is built on a long line of premium diesel engines that dates back as early as 1909 in Germany and 1938 in North America. MTU's heavy-duty diesel engines are known for their superior reliability, emissions control and fuel efficiency.
Since 1998, our team has provided a one-stop shop for service, parts and warranty work for MTU engines.
Weller
Weller Truck Parts and Weller Reman stock an extensive inventory of gearing for both old and current Fuller, Spicer, Mack, Rockwell, IHC, Allison Automatics, New Process and similar OEMs. Weller specializes in new and remanufactured heavy-duty truck parts, remanufactured transmissions, differentials, steering gears and driveshafts. Our trained staff offers an extensive inventory of Weller parts and efficient delivery to limit downtime.
With purchasing power, parts expertise, and on-hand inventory of a wide variety of parts, we are ready to help you with your parts needs. Contact one of our 100+ Customer Support Representatives, 20 Customer Support Managers, or 15 Account Managers to order your parts.
WARRANTY
When you need warranty work, our goal is to provide you with the best warranty experience you can have. We have certified technicians at all of our retail locations that are experienced with working on warranty claims.
Our strong relationships with Detroit Diesel, Allison Transmission, Perkins, and other brands translate to a better experience for you and your equipment. If work falls under a warranty claim, we will handle working with that part's manufacturer and help you smoothly navigate the warranty claim process.
Contact one of our 23 shops today to discuss your warranty service and parts needs.